Friday came quick this week! I LOVE 4 day work weeks. Here are your Friday Five to get you through the weekend. Fall in LOVE with as many things as possible this weekend!
1. JennDubMeend aka Mini-Me aka one of my best friends, Jenn - HAPPY BIRTHDAY! I hope today is full of the things you LOVE most.
2. Allison's Chocolate Chip Cake - This is delicious. My friend Allison made this last weekend and I fell in LOVE with it. It is definitely a must-try. Thank you for the recipe, AlliMay!
I failed to take a picture of her cake but this one is very similar. Thank you google images.
1 box Yellow cake
1 box vanilla pudding
1/2 German chocolate bar shredded
1/2 c water
1/2 c vegetable oil
4 eggs
8oz sour cream
6oz mini chocolate chips
Preheat oven to 350. Add all ingredients except chocolate chips together and mix on medium speed for 3-5 minutes. Stir in chocolate chips. Pour batter into a bunt cake pan sprayed thoroughly with Pam. Bake for 40-50 minutes. Do the clean knife test to see if it's done.
3. Ikat - This is a fashion trend that I have seen everywhere lately from clothes to bedding. I LOVE it.
Dictionary.com describes Ikat as a
method
of
creating
patterns
in
fabric
by
tie-dyeing
the
yarn
before
weaving. Here are a few examples below:
Forever21 Ikat Print Dress
Forever21 Ikat Maxi Dress
Diamond Ikat Square Pillow in Citrine - Amazon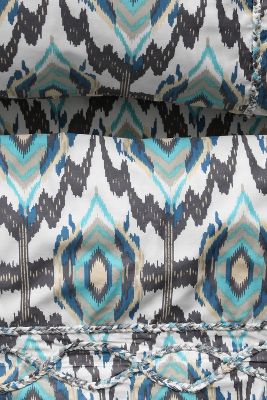 Wakeful Ikat Sheet Set - Anthropologie
4. Total Effects Night Firming Cream -
This nightly moisturizer firms skin appearance and provides 7 anti aging benefits in 1 product all while you sleep. (olay.com)
I LOVE this product. I put it on at night after I wash my face and immediately my skin looks healthier. It doesn't make my skin oily and my skin looks fresh in the morning. Plus, it fights 7 signs of aging and I figured I better start now because it'll help my skin look younger for longer.
5. I LOVE these 10 ways to LOVE (beriablogs.com). The scripture references that you can't read are at the bottom:
References:
Listen:
Prov 18:24
Speak:
Jam 1:19
Give:
Prov 21:26
Pray:
Col 1:9
Answer:
Prov 17:1
Share:
Eph 4:15
Enjoy:
Phil 2:14
Trust:
1 Cor 13:7
Forgive:
Col 3:13
Promise:
Prov 13:12
What have you fallen in LOVE with today?
LOVE, sje