Happy Friday everyone! Here are your Friday Five:
1. I LOVE
Moonshadow Kennel
- For those of you who don't know, I have the best dog in the world who deserves the best treatment. Tucker is an 80lb chocolate lab who will be 2 years old in September. Michael and I bought him a few weeks after we got engaged and he quickly become my child. We can't always take him with us when we travel so we board him. Like I said, Tucker deserves the best treatment and Moonshadow Kennel provides that for him. The owners are extremely nice and take amazing care of all the animals they board. Not only are they the best but they are also the most inexpensive. If you live in Charleston or the surrounding areas and are looking for a place to board your pet, check out Moonshadow Kennel. You will LOVE it.
The services they provide are:
Boarding for dogs, cats and small animals
Doggie day care
Full service grooming
Owners live on premise
Indoor/outdoor accommodations
Climate controlled

Personalized care and attention
2 playtimes included in price
Bed-time potty, biscuits and kisses
All staff certified pet care technicians through the Pet Care Services Association (formerly ABKA)
Calming music 24 hours a day
Live security and fire monitoring
2. I LOVE USA Women's Soccer Team
I have to admit that I haven't watched all season until this past weekend when USA won against Brazil. What an amazing comeback that was. I played soccer from elementary school through high school so I know a little bit about the game. I haven't played since high school, although, while I was watching the game I started spitting out soccer terms like it was nobodys business. I literally laughed out loud listening to myself, "dribble, now kick cross field, header and GOAL!" or "Man-on, out of bounds, offsides, goal kick, corner kick" or "Move up, get out of the box"' and the occasional "Let's go ladies, what are you doing?". Hopefully, I'll be able to watch the World Cup Finals on Sunday - Go USA!
3. I LOVE these
TopShop
sandals. They are a fabulous statement shoe that will add color to any outfit!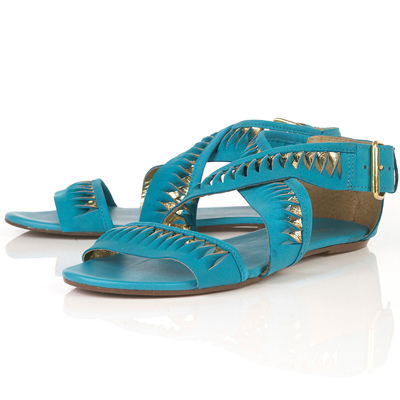 4. I LOVE
Shutterfly
Shutterfly is a great website to store your pictures. You can also create really great projects with your pictures, such as, photo books, greeting cards, canvases, etc. I use this program all the time. I highly recommend trying out shutterfly. You will LOVE it.
5. I LOVE my
Keurig
Coffee Maker
When my parents recently moved back to the States they were given a new Keurig Coffee maker so Michael and I got the one they were currently using. The Keurig allows you to brew one cup of coffee at a time. It is great when you have multiple people drinking coffee because each person can choose their favorite flavor. It also warms up within one minute and brews a hot cup of coffee or tea in several seconds. It is great!
Have a wonderful weekend! What have you fallen in LOVE with today?
LOVE, sje