The anticipation for Irene made this week feel so long. Monday the weathermen were already talking about the weekend and when Irene would show up here in Charleston. Yesterday was the first day that it actually felt like the day it should be. I LOVE that it is finally Friday!
Here are your Friday Five:
1. I LOVE that Irene will not impact Charleston directly. This is the first time in my entire life that I had to be concerned about a hurricane impacting where I live. We live very close to the beach so naturally I was worried. Before I knew the exact path it was going to take I was preparing to either stay and wait it out or evacuate. I learned what supplies we need to have handy and what evacuation routes we needed to take; luckily we don't have to do either. My prayers are with those who live on the upper east coast.
2. I LOVE Carolina Panthers Football. Honestly, I think I LOVE the atmosphere that goes along with football more than I LOVE the game. I don't understand the ins and outs of football but I do LOVE when they score a touchdown. This year will be fun to watch since my fellow AppState Alumni, Armanti Edwards #14, is seeing more playing time. Also, Cam Newton is off to a great start as quarterback. We've needed a good quarterback for a while and we finally have one. So here's to tailgating and cheering loud - Go Panthers!
Go Armanti!
Cam Newton
3. I LOVE that I have been saved by the grace of God. Thank you Jesus for dying on the cross for my sins so that I will live eternally in Heaven. With all the natural disasters going on and the devastation that goes with it, I can't imagine not having Christ in my life. Who would I turn to? Where would I put my hope during these dark times? Thank you Jesus for being there for me through the ups and downs of this world. I know that no matter how hard or dark things get, HE will be our light.
John 3:16-17
16

For God so loved the world, that he gave his only begotten Son, that whosoever believeth in him should not perish, but have everlasting life.

17

For God sent not his Son into the world to condemn the world; but that the world through him might be saved.
4. I LOVE scarves. Fall is just around the corner and my scarf collection will be a staple in my wardrobe. I LOVE the "something extra" a scarf adds to an outfit. I LOVE that there are many different ways to wear a scarf. I LOVE that they keep you warm (I learned this during my years in Boone, NC). I LOVE that they can be dressy or casual. Basically, I LOVE scarves.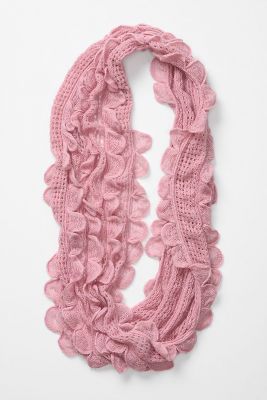 Scalloped Pointelle Loop
- Anthropologie
5. I LOVE when people smile. When I was young(er) I filled out the front pages of a book where you write your name, who gave you the book, etc. One of the questions was "What is your favorite feature?" and I wrote, "my smile". Ha - I laugh about it now and wonder what prompted me to write that at such a young age. I do LOVE to smile. Whenever I am not feeling well or I am simply in a bad mood, smiling somehow makes me feel a little better. I also LOVE it when someone else smiles at you for no reason. At work I see multiple people throughout the day and I try to smile at each one of them. Who knows what they are going through and a smile might make their day a little bit better. Make sure to smile today!
Have a great weekend and stay safe if Irene is coming your way!
LOVE, sje