Happy 11-11-11! That's not something I'll ever say again - pretty cool. I wonder how many couples are getting married today even though it is a Friday? I digress, anyway, hope y'all had a great week!
Here are your Friday Five:
1. I LOVE Veterans Day. I want to send a huge THANK YOU out to everyone who has or currently is serving in the military. I have lots of family and a few friends who have/are serving and I have the utmost respect for them. Happy Veterans Day!
2. I LOVE UNC basketball. Tonight is the season opener and the tarheels play Michigan State at 7pm. This game is unique because it is the Carrier Classic which means they are playing on the USS Carl Vinson aircraft carrier in San Diego, California. Click
here
to learn more. Go Heels!
3. I LOVE Green Mountain Pumpkin Spice
coffee
. Need I say more? This is a limited edition coffee so if you haven't bought it yet, do it now, you won't be disappointed. Remember how I LOVE my
Aerolatte Frother
? Froth some milk then mix in your Green Mountain Pumpkin Spice coffee and add a little truvia and you have created your own, homemade, Pumpkin Spice Latte!
4. I LOVE the CMA Awards. Did you watch them on Wednesday night? If so, you know that Brad Paisley and Carrie Underwood hosted the show and did an amazing job, once again. I think they are the best hosts of any award show. Maybe I think that because I LOVE Carrie Underwood. She is beautiful and has one of the best voices in country music. She is a believer and a great role model to girls of all ages. I was disappointed in her choice of dresses/outfits throughout the show, although, she wore them all with confidence. My favorite look of hers was the Tony Ward gown that she performed in. Stunning.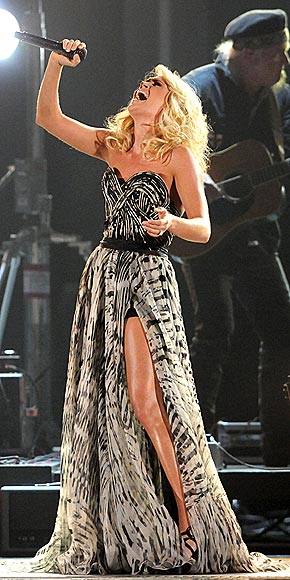 *photo by people.com*
5. I LOVE crafts. There are so many fun things you can create just by getting a little crafty. I found this on pinterest, although, it originally came from Salvage Dior. This blog has some really cool craft ideas. This is a black rubber doormat that has been spray painted white. When it is hung on the wall it creates a shabby chic decorative piece. How cool (and easy)!
What have you fallen in LOVE with today? Have a great weekend!