Happy Friday friends! Even though it took me a while to get back into the swing of "normal" life after our trip, this week went by pretty fast for me.
Here are your Friday Five:
1. I LOVE Eller's Chili. Yup, Michael and I created our own chili and it turned out very delicious! We were pretty creative with the name, right?!? ha. This week was the coldest week that we have had this winter so it was the perfect time to make chili. I looked at a couple different recipes and factored in what we already had at home and came up with a concoction of yummy ingredients that came together as the perfect chili. It is simple and quick to make and you'll have dinner for more than one night. Let me know if you try it!
Sorry, I forgot to take a picture.
Eller's Chili
Makes about 16 cups
1 lb ground meat (we used venison)
1 roll of ground pork sausage
1 large onion, chopped
4 (12.5oz) cans of diced tomatoes with green chilies
3 cans (12.5oz) can of corn, drained & rinsed
3 cans (10oz) tomato sauce
2 cans (15.5oz) dark red kidney beans, drained & rinsed
2 cans (15.5oz) black beans, drained & rinsed
3 Tbsp chili powder
1 Tbsp garlic powder
Salt and pepper to taste
Shredded cheddar cheese (optional)
Cook ground meat and ground sausage until browned. In a large pot (with a lid) mix the cooked meat and sausage with the rest of the ingredients (minus the cheese). Bring mixture to a boil then reduce heat to medium and cover. Cook for 35 minutes stirring occasionally.
Top each bowl with shredded cheddar cheese and enjoy!
2. I LOVE yoga. I'm not into the whole "close your eyes, put your hands together and feel the energy of the earth pull up your spine and out of your head" part of yoga, although, I do LOVE that it gives your body a great workout. On our vacation, my sister-in-law Ashley, taught us a yoga class in the yard and I really enjoyed it. It reminded me of my childhood dance and gymnastic days. I decided to try the yoga class at the gym yesterday morning, and boy, it kicked my butt. I thought I had good balance - nope. I thought I was flexible - nope. I was "that girl" in the class that had to use the small box with almost every pose just to keep myself from falling down. It was humorous to say the least. Although, I don't care how dumb I looked or that I was the worst in the class because I am sore today so I must have done something right. Hopefully, the more classes I go to the better I'll get. Maybe I'll even upgrade to hot yoga status or be able to do this pose:
ha...we'll see.
3. I LOVE burlap. Lately, this has been one of my favorite fabrics. It has a laid back, southern look that I LOVE. If I was a designer, I would put burlap in every design. Here are some of my favorite ways to use burlap:
as a table runner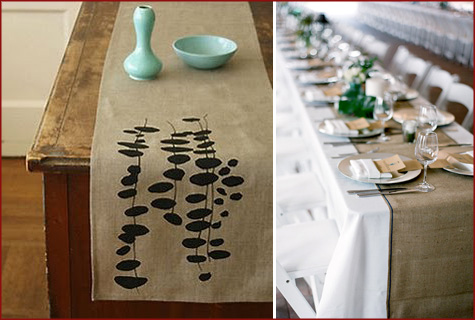 as a wreath
made by my friend, Amanda King
as curtains
as a vase cover
4. I LOVE that Justin Timberlake and Jessica Biel are engaged. It's about time, right!? I LOVE this couple. She is gorgeous and he is handsome. I can't wait to finally see the ring and pictures from the wedding...whenever that may be.
5. I LOVE this quote. It is definitely something we should think about everyday - good or bad.
What have you fallen in LOVE with today? Have a great weekend!
LOVE, sje